Navy blue Pant is super versatile and always in style. You can dress them up or down for any occasion formal or casual. This is must-have pants like white and black pants. You can create different styles with it, formal, casual, or stylish. When it comes to navy blue pant matching shirts, you have plenty of options to create a stylish outfit.
In this fashion world, everyone wants to look good. Your dress makes your first impression. So you should know what color goes with which color. Below are the 12 best navy blue pant shirt combination.
12 Navy Blue Pant Matching Shirt Ideas
1

Navy Blue Pants with Crispy White Shirt
This is a timeless and stylish combination. A classic button-down shirt is a popular choice for this combination. Keep the accessories minimal and pair this combination with brown or black shoes for a stylish and decent look.
Tucked in with a shirt for a polished and formal look or untucked for casual vibes. White and navy both are versatile colors that make a good combination.
2

Navy blue pants with Light blue shirt
Navy blue pants with a light blue shirt is a winning combination. The soothing shade of light blue blends with the rich depth of navy. A light blue shirt is perfect if you are looking for a navy blue formal pant matching shirt.
Rock it with confidence Guys!!!
You can also give it a personal touch with accessories. Use black shoes, and a sleek belt for a sharp look. This is a perfect combination for those who don't love to look different and like the elegant look.
3

Navy blue pants with Pale Pink Shirt
Why should girls have all the Pink??? Pink has now become a style statement for men too.
A pale pink shirt with a Navy blue pant combination creates a stylish look. Soft and delicate pink with deep navy is a good option for a sophisticated and fashion-forward look.
Set you apart from the crowd. Pair it with a navy blue belt and other matching accessories. A pair of brown or tan shoes goes well with it. This cool combination suits everyone so try it without any confusion.
4

Navy blue pants with Striped blue & white shirt
None can beat this killer combo I bet!
Trust me this will create your impression as a fashion icon. Just give some personal touch with the accessories and a pair of black shoes to flaunt your individual taste.
Embrace your fashion sense. Use a watch, goggles, and other accessories to enhance your style.
Enjoy the feeling of a superstar!!!
5

Navy blue pants with Checkered Gingham Shirt
Guys try a checkered gingham shirt as a navy blue pant combination shirt for a classic look. The checkered shirt adds sophistication and navy blue creates a sleek base. This a perfect and sharp look for any occasion.
Use a sleek belt and a watch to make a perfect look. Don't forget to add some of your own flair.
Wear it with confidence and none can stop you from slaying like a KING!!!
6

Navy blue pants with Light Grey Shirt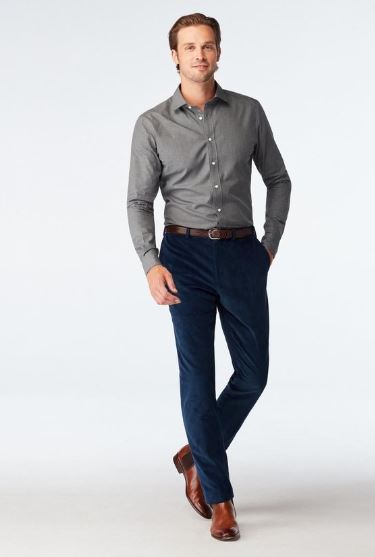 Now if you want to play safe then I suggest going with this sophisticated look.
The light grey and navy blue pant matching shirt creates a refined appearance. This combination is stylish as well as safe for those who don't like experiments.
Pair it with black shoes and matching accessories and a watch.  And here you are all set to showcase your impeccable fashion sense.
7

Navy blue pants with Lavender or Lilac Shirt
Oh, friends! This is an awesome combination for a fresh and stylish look.
This creates a visually appealing and fashion-forward and modern appearance. Pair black or tan shoes and matching accessories.
Use a stylish watch and other accessories and win the heart of everyone with your style. Do experiment with different shades of it light and dark.
Believe me, this is the most popular combination among fashion lovers.
8

Navy blue pants with Mint green Shirt
Nowadays men experiment will all the shades they can. Mint green is one such shade. Navy blue pants with matching a mint green shirt is a beautiful combination.
It is fresh and stylish. Mint green is a pop of color and complements the deep navy blue perfectly.
This trendy navy blue pant-matching shirt is must have if you love a fashionable look.
Wear brown or tan shoes and matching accessories like a watch, belt, and others.
9

Navy blue pants with Peach Shirt
A peach shirt and navy blue pants are a good combination. You can look stylish and refreshing in this combination.
Cool navy and warm create a pleasing contrast, isn't it?
You can try light peach or a soft coral shade with dark navy blue pant matching shirt. Add a brown or tan belt, and brown loafers or dress shoes.
For a formal event, pair, it with a blazer and choose a linen shirt for a relaxed look.
10

Navy blue pants with Light yellow Shirt
A light yellow shirt creates a soothing contrast with deep navy blue pants. This is a vibrant combination that gives you an eye-catching look.
Pair it with brown or tan shoes. You can choose pastel yellow or lemon yellow shade for a sophisticated look. Wear a brown belt and accessories.
Yes, wait don't forget to wear a stylish watch.
11

Navy blue pants with Charcoal Grey
Charcoal grey shirts and navy blue pants complement each other. These colors blend beautifully to create harmony. This is a cool and stylish look.
This is a balanced look that makes people turn their heads. Pair brown or black shoes and a matching watch. It elevates your look.
Just go with this versatile combination and see the impact!!
12

Navy blue pants with Beige Shirt
Beige shirts and navy blue pants are a beautiful contrast. The combination of this light color shirt and the dark color pant provides you with a classy look.
This is visually appealing and catches the eye. This is a super trendy style. Pair it with brown or tan shoes. Avoid black shoes with them. Carry a brown belt and stylish accessories.
Wear a matching watch and rock like a boss.
Of course, there are many combinations for navy blue pants but these are the best from the list of the navy blue pants matching shirts. These are just suggestions for your help. For sure you can try these according to your choice and personality.
13

Navy blue jeans Matching Shirt
If you are looking for navy blue jeans and a matching shirt then you can pair it with neutral colors like beige, grey cream, etc. You can wear it with white, sky blue, and others. You can try a chambray shirt, striped shirt, or plaid shirt too.
Experiment with different colors and patterns to know what suits you the best. As jeans are versatile and a must-have in men's wardrobe you should try different styles with navy blue jeans. You can create a cool as well as vibrant look with navy blue jeans.
Sum Up:
So these are the 13 best Navy blue pant and matching shirts. You can choose according to the occasion. You should choose the combination if you want a sophisticated look, fashion-forward, or decent look. Try different colors and styles to create your style.
Every person has a different personality and choices. One rule never works for everyone. And in this fashion world, the main thing is your confidence. If you are confident every style is yours. The main thing is what you wear gives you confidence, comfort, and pleasure.
Get ready to turn your heads with your style. I hope these combinations will help you to explore your style.
We are a team of passionate writers with expertise in topics related to men's fashion, health, grooming, and lifestyle. Our aim is to inform and guide Indian men to elevate their lifestyle.