Shiny, beautiful and healthy hair is the dream of every girl. There are many hair treatments and kerasmooth is one of them. If you are struggling with unmanageable and rough hair, you should try kerasmooth treatment. It is very popular these days to get smooth, shiny, and straight hair. This treatment makes your hair frizz-free. In this process, hairstylists apply a keratin mixture on your hair and the heat of a flat iron to seal it in your hair. Before tying this you should know all about this treatment.
What is Keratin
Keratin is a protein that is found in our body parts such as nails, hair, and skin. Keratin provides strength and protection to them. When we talk about hair, keratin makes hair strong, healthy, and shiny. Lack of keratin makes hair dull, rough, and damaged. So, keratin is essential for the overall health of the hair and nails. It makes them beautiful.
What is kerasmooth Treatment?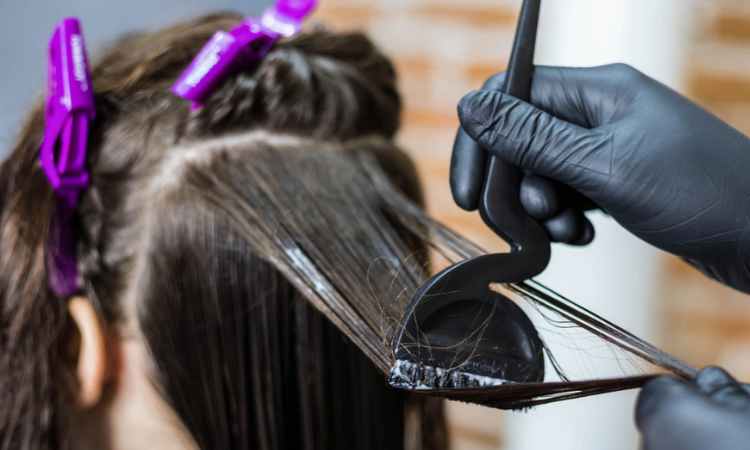 Kerasmooth is like other hair treatments. It makes hair frizz-free, smooth, and shiny. In this process, a solution including keratin is applied to your hair. This mixture has keratin and various nutrients that are necessary for your hair. After applying the mixture, the stylist presses the hot iron to press the mixture into the hair.
Difference between Keratin and Kerasmooth
Keratin and Kerasmooth both are hair care treatments that make your hair frizz-free, smooth and shiny. In both stylists put keratin and other nutrients on your hair, then use a hot flat iron to lock it in the hair. In keratin treatment they use formaldehyde. This treatment is formaldehyde free. Formaldehyde is harmful so kerasmooth is safer and better than keratin treatment. If you are confused, then talk to a professional about which one will be best for your hair.
The Process of Kerasmooth Treatment
There are a few steps of kerasmooth treatment such as:
Cleaning: The first step of the process is the washing of the hair and scalp to remove the dirt and any residue for effective results. They use a special shampoo.
Application of the Solution: After cleaning the mixture of keratin and other stuff is applied all over the hair. They apply it on each strand.
Heat Activation: Then flat iron is used for heat activation. This makes hair straight and smooth. The heat helps to seal the product into the hair strands. This process makes hair frizz-free and smooth.
Rinsing and Drying: After the treatment, the hair is rinsed, dry, and styled.
Aftercare: it is recommended not to wash a few days after the treatment. Don't forget to ask your professional about the shampoo. You should use sulfate-free shampoo and conditioners.
These are the general steps of the process.
Also Read: Unlock the Difference Between Keratin and Smoothing
Benefits of Kerasmooth treatment
There are many benefits of this treatment that make it so popular, some of them are:
Frizz-free Hair: First of all the treatment makes the hair frizz-free. You don't need to struggle with your hair especially if you live in a humid climate.
Smooth and Manageable Hair: This makes your hair smooth and manageable. Your hair becomes silky.
Enhance Shine: This treatment enhances the shine of your hair and makes them gorgeous.
Easy to style: As it makes your hair manageable, you can style it in less time. This treatment Saves your time and effort in styling.
Long-lasting results: This treatment can last 2-4 months, it depends on your hair. You should take care to maintain the long-lasting effects.
Safer and Better: As formaldehyde is not used in this treatment, this is far better and safer than other treatments.
Safer for all types: Whether your hair is curly, straight, rough, or other type this treatment can be applied.
Kerasmooth Side Effects and How to minimize them
Like other hair treatments, kerasmooth has also some side effects. You should know them so that you can minimize them.
Scalp Irritation: You can face scalp irritation, redness, or itching after the treatment. But this problem can be solved. You can discuss it with your stylist about it. They will suggest to you how to avoid this discomfort.
Change in Texture: It is noticed that some people face a change in natural hair texture after the treatment. But don't worry this is a temporary change and faded with time.
Chemical Sensitivities: Many people due to chemical use suffer from allergies. It is good to take a patch test first. If you are allergic to any product inform your stylist before the treatment.
Damage from Heat Styling: As heat is used to lock the product in the hair, sometimes excessive heat can damage the hair. Improper or continued use of heat for a long period causes hair damage.
So, there are a few side effects of this Treatment. You should be careful to minimize the effects. You have to take the service from an experienced professional. Tell them if you are allergic to something. Asked them about the post-care. If you face any problem after the treatment consult them.
Important things to Remember
Before this treatment you should keep in mind some important things:
Type of Your Hair: Kerasmooth is for frizzy or curly hair. You don't need it if you already have smooth and straight hair. You'll not notice any change in your hair.
Potential Risk of Harm: Heat and chemicals are used in the process that can harm your hair. So, you should try it only from an experienced professional that knows how to minimize the risk of harm.
Post-Treatment Care: You should care for your hair after treatment. Avoid swimming and seawater. Use sulfate-free kerasmooth shampoo and conditioner.
Money and time: Remember that this is a time-consuming treatment, so you must be patient. You should ask about the price before as it varies for everyone according to your hair length and texture.
Variable Outcomes: This treatment works differently on people according to the texture of the hair. On someone, it brings dramatic change on the other hand on someone just a little difference.
Your Routine Activities: if you swim regularly, this is not for you.
You should understand all these factors before this treatment.
Kerasmooth Treatment Price
The price of Kerasmooth treatment varies from person to person according to hair length, texture, and other factors. The average price of this treatment is INR 6000 to INR 15000. But this depends on factors such as place, stylist, and hair.
Conclusion
So, there are many things you should keep in mind before any hair treatment. Just go to a reputed salon and take the service of an experienced stylist. Discuss before treatment, they will give you suggestions according to your hair. And don't forget post-treatment care. Keep in mind all these things and enjoy smooth, shiny, and healthy hair.
We are a team of passionate writers with expertise in topics related to men's fashion, health, grooming, and lifestyle. Our aim is to inform and guide Indian men to elevate their lifestyle.