Hello friends! Today we'll talk about the most stylish celebrity in the south "Allu Arjun" who is famous for his style, dance skills, and most prominently for his haircuts. Allu Arjun's hairstyle is popular for its uniqueness. He is quite confident in experimenting with different hairstyles and carries every hairstyle gracefully.
Allu Arjun is not just a name but a style statement in himself. His fans wait eagerly for a new look at Allu Arjun's hairstyle. They not only appreciate him but also try to copy him.
12 Latest Allu Arjun Hair Cuts
Here are some popular Allu Arjun hairstyle that makes him the heartthrob of his fans.
Faux Hawk Hairstyle
Allu Arjun tried faux hawk hairstyle in a few of his movies, like "Race Gurram" and "Satyamurthy". This hairstyle is modern and a little bit similar to Mohwak, but not completely. In this style hair is shorter on the sides and longer on the top, creating a spiky ridge in the centre of the head. If you want, you can personalize it in a lot of ways, with different lengths, textures, and colors, and can give it a personal touch. This is a versatile style, and suitable for all occasions. If you want to play safe try this as almost suits everyone.
Messy Hairstyle
Allu Arjun always comes with a new look. His fans never forget the messy hairstyle that he nailed in several movies including "Ala Vaikunthapurramuloo". This effortless and cool hairstyle gives him a killer look. Allu Arjun is famous for his daring fashion choices. In his iconic movie Pushpa, he stole the show with this style. ala vaikunthapurramuloo allu arjun hairstyle is a style statement in itself.
This is the best hairstyle if you want to give texture and volume to your hair. If you have curly and wavy hair this is perfect for you. But it does not mean that it is not for straight hair. It provides you cool and relaxed appearance and the best thing is it works for various occasions. No doubt Allu Arjun knows well how to carry a style elegantly.
Pompadour Hairstyle
This is one of the popular Allu Arjun hair style. Allu Arjun has carried the Pompadour hairstyle in his various movies such as his most famous movie "Sarrainodu" and "Naa Peru Surya, Naa Illu India". The hairstyle has been popular for a long time, but Allu Arjun has made it modern and trendy.
The hairstyle is about sweeping hair upwards from the forehead to create volume on the top of the head. The sides and back are kept smooth and neat whereas the top is styled with volume and texture. Try Allu Arjun hairstyles and catch the attention of the crowd with your confident and polished look.
Man pony hairstyle
In his movie Badrinath, Allu Arjun appears in this rocking style and made his fans go crazy. Pony or bun is not a new style but our stylish star has given it a new and trendy look. If you have long hair just go with it. This look not only makes you classy and cool but also comfortable. Just pick this hairstyle and personalize it according to your choices such as high pony, low pony, mid pony, and many other variations.
Side Part Long Hairstyle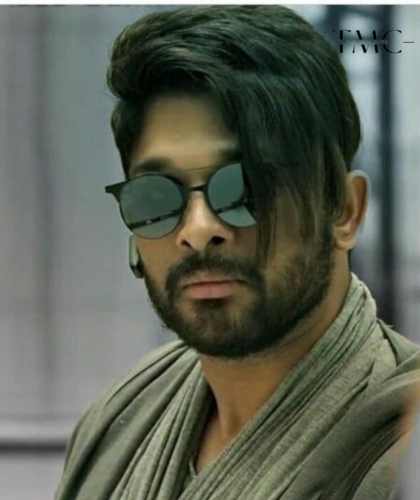 To try a new look, Allu Arjun hairstyle is the best choice. His side-part long hairstyle is perfect to add class and elegance. This is the hairstyle of our stylish hero Allu Arjun in his famous movie Arya 2.
This hairstyle involves long hair on top and shorter hair on the sides and back. Long hair is styled to one side using a comb, creating a sharp and clean look.
Mid-Parted Messy Long Hair
If you are a fashion and style lover, you have definitely seen Allu Arjun's mid-parted messy long hair. Such a cool look! He created it in his movie Desamuduru. This style creates your look cool, carefree, and relaxed. Just your fingers enough to manage them. When in a hurry must try this low-maintenance hairstyle.
Long Side Fringe
As you know Allu Arjun has experimented with many hairstyles using fringe, this is another one. This hairstyle involves long hair on the top which is swept to one side, while the side and back have sharp undercut. If you are bold and daring enough to carry it go for it and make the people turn and appreciate your style.
Mid Spikes Haircut
The mid-spike hairstyle is really cool and trendy as you can see in Allu Arjun's movies. This new ala vaikunthapurramuloo allu arjun hairstyle involves medium-length hair on top that is styled into a spiky. You can create a fresh and breezy look with this haircut. But you have to use styling products to maintain this hairstyle.
Side-Swept Fringe Haircut
Have you ever seen Allu Arjun's side-swept fringe? It's a cool hairstyle that is most favorable to everyone. In this men hairstyle, hair is trimmed short on the sides and back leaving longer hair on the top. Allu Arjun has tried this in his movie DJ.
Long Curly Haircut
Look stylish with long hair, just see the look of our most stylish hero Allu Arjun in his movie Pushpa. In this movie, he is in a long curly haircut. This is the new look of Allu Arjun hair style. His fans are eager to follow him, of course, he deserves it.
Long Wet Hair
Long wet hair has been for long in trend. Our superstar is capable enough of making an ordinary style classy, this is also an example of it. He captured his fans with his look.
Colored Allu Arjun Hair Style
Allu Arjun has played with different hair colors in his movies and personal life. He has tried many colors such as blonde, red, blue, and green. In the movie "Arya 2" he created a classic look with his bright red hair color. If you don't want to experiment with haircuts you can change your look with hair colors.
These ala vaikunthapurramuloo allu arjun hairstyle are an inspiration for fashion and style lovers. His experimenting with hairstyles shows his bold and daring nature. The first thing that is necessary to look stylish is your confidence, how do you carry a style? So, just pick your favorite style and discuss it with your hairstylist, apply it, and rock like a star.
Frequently Asked Questions
What is Allu Arjun hairstyle called?
The side-swept fringe haircut is among Allu Arjun's preferred styles. He has experimented with various fringe looks in the majority of his movies.
What is the number 1 hairstyle?
At 1/8″, the number one guard is almost the shortest possible length. Light or fine hair may reveal some skin at this length. For an even shorter cut, there are 1/2 and 0 guards available.
Anshu Kaushik, the digital marketer behind Themencure, provides captivating content on men's lifestyle, fitness, and fashion. Enhance your life and embrace your style with his expert insights.